Roxanne's Photo Gallery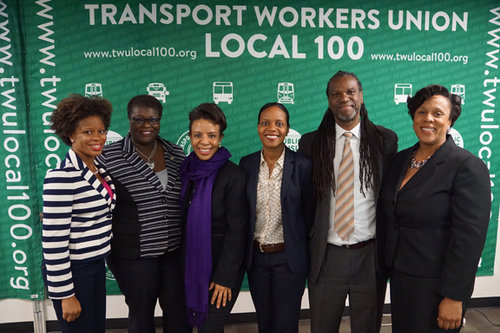 It has been important for us to join with other legislators to ensure that the Haitian community gets its fair share of funds for housing, good schools, and safe streets. This is why we have come together to endorse a dear friend and colleague who we have witnessed her work and trust that she will continue to deliver in our fight for a better quality of Life.
The Haitian community in New York City, Long Island and other parts of New York State has become a vibrant political force.  Each of us now serve in important capacities in the State and City level. In this capacity, we have been strong advocates for our people and have fought hard for the special needs our community requires.
Roxanne Persaud is the current State Senator being the first woman elected to hold this seat.  She was elected last year, November 2015 and before that served as an Assembly member in the New York State Legislature.
Senator Persaud has stood in the fight to raise minimum wage, improve our children's education, implement better staffing for nurses, support our seniors, make our streets safer and backed the Paid Family Leave Act.
Senator Persaud makes a difference. She has been a longtime community activist, President of the 69th Precinct Council, and left a lucrative position as the Registrar at St. Francis College so that she might serve as a member of the New York Assembly and then State Senate.
Senator Persaud has been endorsed by major unions including:
1199SEIU, 32BJ, TWU Local 100, DC 37, AFLCIO, CSA, and many more.
Please join us on TUESDAY, SEPTEMBER 13TH in re-electing SENATOR ROXANNE PERSAUD.
Roxanne Persaud
Se Moun Pa Nou, Se Candida nou!
 ### 
Assemblymember Rodneyse Bichotte represents the 42nd Assembly District in the New York State Assembly representing Brooklyn communities of Ditmas Park, Flatbush, East Flatbush and Midwood. She is currently the Chair of the Subcommittee on Oversight of Minority and Women-Owned Business Enterprises (MWBEs), and serves on the following committees: Housing, Government Operations, Economic Development, Small Businesses, Banks and Social Services. She is also the Vice Chair of the NYS Association of Black and Puerto Rican Legislators, and sits on Governor Cuomo's Domestic Violence Advisory Council.  
As the current Assemblymember and District Leader, Rodneyse Bichotte has been outspoken advocate on issues concerning immigration, unemployment, education reform, health care access, senior citizen centers, affordable housing, women's and LGBTQ rights, as well as other issues affecting the quality of life in the community. 
Learn more about 
Rodneyse Bichotte by visiting her website at www.rodneysebichotte.com or http://assembly.state.ny.us/mem/Rodneyse-Bichotte 
Do you like this post?